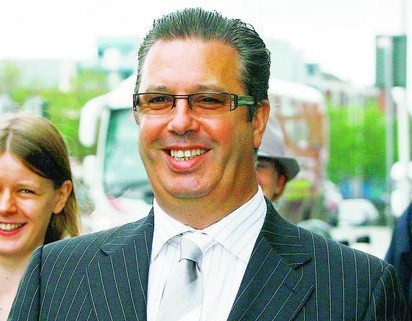 Gerry Ryan Show
, 17 Feb 2008:

Gerry calls the bottom!


"Now is your time to go out and buy that house because they're never going to be cheaper. Never going to be cheaper."
Note:
As of June 2009, house prices have dropped 14% since the time of the above quote; a person buying the average house will have saved €35,000 - or, 6% of Gerry's annual salary.
"Would the Real Gerry Ryan Please Stand Up", autobiography:
"I'm a great fan of property developers because I believe they turned the country around"

[...]

"These guys are really our merchant princes. I think there's been a lot of pointless tut-tutting in relation to the amount of money they've made. The likes of Sean Dunne, Harry Crosby and Johnny Ronan pulled Ireland up by its bootlaces and propelled it into the future"

[...]

"These guys rejoice in profit. And I'm not ashamed to say that I do too."

[...]

"I find myself most comfortable among those people. I also find myself the least wealthy man in the room."

[...]

"Bertie Ahern is, without doubt, more than any other politician in the history of the Republic, substantially responsible for the success of this country."

[...]

"My favourite sommelier was Pascal in Dromoland."
(Sorry, nothing to do with property, but I couldn't help but include it - CMcK)