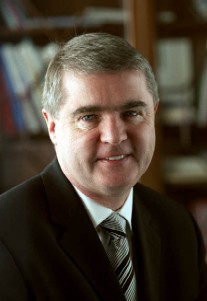 Irish Independent, March 15 2008:
"If I was to give advice to people, I would say, go out and buy some property now. It's great value."

[...]

"[I am] not wealthy by any means".
The Galway West deputy, who either fully or partly
owns more than 40 properties around the world -- as well as a share portfolio and an interest in a construction company
-- claimed that his bank manager was not very happy at the moment.
Galway Independent, 28 Jan 2009:
"This is a great time for first-time buyers to buy. It is now a buyers' market. There is unbelievable value out there at the moment [...] "The banks are giving loans at the moment. But be ready to make your move."
Irish Times, 1 September 2009:
"The property market will rebound... it has already started [...] Look at what the foreign banks have done to Ireland at the moment....
Irish Independent, 6 Sept 2009:
"With regard to declarations of interest, I confirm that I do not own any bank shares and that my shareholding in property has been declared in my declaration of interests and will not be of any interest to Nama"
Irish Mail on Sunday (via The Story blog), 21 March 2010:
"[A] clerical oversight"
Fahey explaining why he didn't declare a 50% interest in the construction firm Sage.
Newstalk radio, 12.45pm, 7 July 2010:
"All the assumptions are that property will go back up [...]

I have no doubt that NAMA will make a profit [...]

I heard economists from one of the universities making predictions and you can't make predictions about what's going to happen to the property market."

"NAMA will be transparent"

"I tell you one thing, Damien, [...] if I could get my hands on money at the moment, I'd be buying property"